Life is short,
LIVE pain free
Reduce pain, increase mobility and live life on your terms, getting you the most out of every day.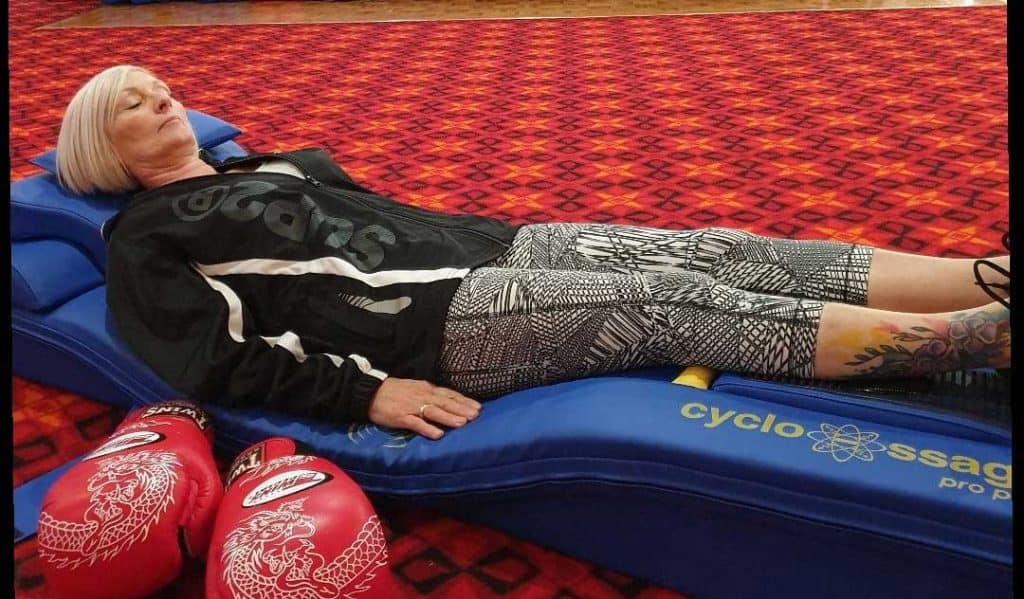 Relieve - Nourish - Reset
At 360 RNR we believe that pain doesn't have to rule your life. We can help you relieve your pain but we also encourage you to take back control of your health and wellbeing by tackling your pain from an holistic perspective.
Relieve – Designed as a pain relief alternative to medication, the Cyclo-ssage Therapy System uses a combination of cycloidal oscillation and infrared heat to alleviate the secondary symptoms of many health conditions. Cyclo-ssage Therapy is awesome for optimising sports performance and recovery too.
See how Cyclo-ssage works on your body >>
Nourish – The foods we eat play a role in pain and inflammation but more than just the foods we eat, nourishment for your mind and soul is key too.
Reset – Depending on the cause of your pain you may find that activating, stretching, and strengthening certain muscles helps to release, reduce and eliminate causes of pain. We can connect you with one of our trusted partners to take your recovery to the next level.
So why not get in touch and see if we can help you do a 360 back to a time before pain?
Relieve pain and increase mobility with Cyclo-ssage.  Book your sessions here and if this is your first time remember to select Cyclo-ssage Introduction package to get your special price
Sign up to our email list for tips on nourishing your body, mind, and soul to help reduce pain
Take further control of your wellness and talk to us about booking a consultation with one of our trusted partners and see how they may help reduce your pain.
Hi my name is Jonno and I use cyclossage to alleviate symptoms from osteoarthritis. The level of flexibility that has returned to my body since using cyclossage is wicked, cycling is now a joy physically and mentally! If I don't use cyclossage routinely, the build up of junk in my body causes more inflammation, and thus pain. Cyclossage is the fountain of youth! It's so good, I recommended it to my mother in law, she reckons it's fab!
I first used the Cyclo-ssage back in March 2019 when I hurt my back and could hardly walk. I was in agony so a friend (who swears by it) recommended I give it a try. I did a 30 minute session. At the beginning of the session (when I arrived) I could hardly smile or get on the bed. After the session I just felt different - and could actually joke. But the real change came later that day. After 2 days of intense pain I started to feel able to stand and walk again. The next day I felt even more free to move. I went again later that week and improved again so much that I no longer felt like I had to go to the Physio. So I'm hooked! Highly recommend giving it a try if you're experiencing any pain.
Evening Helen, sorry for the late txt, it's been super busy today. I just wanted to let you know I had the best sleep after my cyclo-ssage yesterday. I slept all the way through without waking, which was the first time in over a week. I have been practically painfree all day. Thank you so much Helen, it worked a treat!
I first tried out the Cyclo-Ssage back in July 2018, and despite being initially sceptical, I was totally blown away by the results after just my first session! As a bit of background, I'd spent 11 years with regular lower back aches, resulting in migraines every couple of months, and had just accepted it as part of everyday life. As we often do! I couldn't lie on my back as it would tense up and was very uncomfortable. Anything that involved bending over for any length of time, i.e mowing lawns, gardening, vacuuming would stiffen my lower back and result in a headache or migraine. After my first 30minute session – which was complete bliss and I admit to struggling to stay awake – I just felt relaxed. It was not until that evening that it actually dawned on me I hadn't felt my back all afternoon. Seriously?? I thought it would go back to normal the following day…but no. Not long after, I went on a scuba diving holiday to Fiji and really noticed the difference in how 'freed up' my back felt, and the absent dull ache I had become accustomed to over the years. It wasn't until almost 4 weeks later, while awkwardly moving to the edge of a boat in full dive gear that I felt that ache return. So, upon my return to NZ, I went in for another session, and almost straight away noticed the difference. For me, the Cyclo-Ssage really does free up my back, while taking away the ache, so I no longer use painkillers as I used to. Sold, love it, and would totally recommend this to ANYONE and EVERYONE!
Health Conditions & Ailments
The Cyclo-ssage Full Body Massage Therapy System can alleviate the secondary symptoms of a wide variety of health conditions
Introductory Session
$97 for 3 x 30 minutes.
Address:
63 Queens Drive
Lower Hutt, New Zealand
Book A Cyclo-ssage Therapy Session